Ensemble L'Aura Soave


The "L'Aura Soave" ensemble was born in 1995 out of the union of musical and musicological experience and competence of a few musicians and singers, in the surroundings of the Cremona School of Musical Palaeography and Philology.
The ensemble play period instruments or exact replicas and following the performance techniques appropriate to their chosen repertoire they pay close attention to the practices of the period. This choice was however not perceived as an aim but as a way of getting back to an Italian vocal and instrumental tradition based on "belcanto" and inventive performance.
They have taken part in numerous festivals and shows, including in October 1999, by invitation from the Gulbenkian Foundation of Lisbon, performing Frescobaldi's Motets in their entirety and Salomone Rossi's Psalms at the Ancient Music Week in the 1999/2000 season and performing at the XXVIII edition of the Claudio Monteverdi Festival in Cremona with Emma Kirkby and Sophie Daneman.
L'Aura Soave has to its credit many CD's, all of which are world first recordings of previously unpublished pieces of music. They show a particular preference for composers from Cremona.

L'Ensemble L'Aura Soave
Cremona festival "Claudio Monteverdi" Theatre A. Ponchielli June 2001
Claudia Combs e Andrea Rognoni violins
Marco Frezzato violoncello Rodney Prada Sevilla viola da gamba - lirone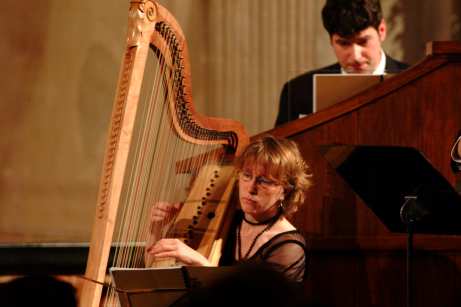 Marina Bonetti harp Francesco Moi organ - harpsicord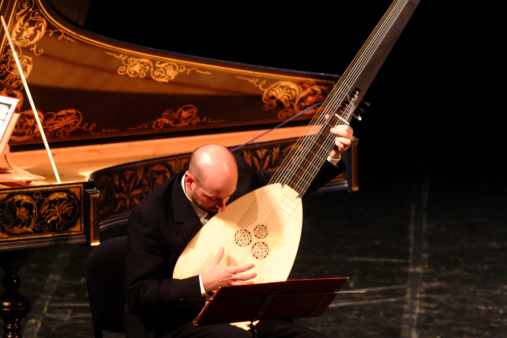 Diego Cantalupi tiorba